Lil Monsters Bird Toys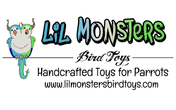 I have been owned by small parrots since 2011.
I soon learned that there was a real problem: a lot of toys were marketed for "small birds" but were not appropriate for many reasons. They used unsafe parts like zinc metals and paints, or they were just big toy parts marketed for small birds. Either way, I found that all of the toys I bought at the store were simply not enjoyed by my parrots.
Play and destruction are a vital part of keeping our companion birds healthy, entertained, and happy, and I began to solve this problem for my own flock several years ago. I then realized that if I had this issue, other people might too. That's how Lil Monsters came to be.
I am lucky to share my life with my husband, two sons, a Jardine's, a dog, a cat, and a leopard gecko!